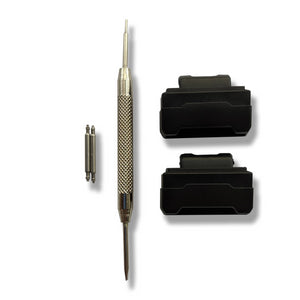 Suitable for:
1) Casio G-Shock GA-110/100/120/150/200/300/400
2) Casio G-Shock GD-100/110/120
3) G-8900
4) DW-5600
5) GW-M5610
6) DW-6900
7) G-5600
8) GW-6900
9) DW-9052
10) GLS-8900
Spring Bars Provided
*** Buy 3 straps and above for free basic spring bar tool.
Tool will not be reflected at the checkout cart but our friendly staffs will take note and include in the mail:)
Nice
The spring bars provided are thinner than the default G-Shock ones, ostensibly for easier installation. They will slip out quickly (of the adapters) if you are not careful though! Having said that, they remain just as solid as the default G-Shock ones, even though they are thinner. You can also use them as replacement springbars for your Gs if you decide to not use the adapter in the end.